Please provide the video file...
As the Worldwide IT Partner of the Olympic & Paralympic Games, Atos leads the technology effort for the staging of the Games. This same effort and skills can help your company as you pursue a record-breaking competitive advantage.
Digital Empowerment for the Olympic Games: The IOC and Atos embrace digital transformation and see step changes in how disruptive technologies address emerging challenges and make a major impact.
Turning the Games into a fully connected global experience: The role of IT at the Olympic Games is changing significantly: reflecting new expectations about its organization, delivery and experience.
Cloud makes it into the squad for the Olympic Games: As part of the transformation, there is a new delivery model. A paradigm shift from a 'build each time' to a 'build once' model delivering some critical services over the cloud that creates significant efficiencies and operating flexibilities.
Atos believes that bringing people, technology and business together is the way forward, indeed this is the way that we power progress. There is no greater example of this than at the Olympic and Paralympic Games, which brings together the world's population for the greatest show on earth. Every two years, our Business Technologists deliver on an extraordinary scale under the scrutiny of the entire world.
End of 2013, Atos has extended the contract with the IOC to provide IT services for the next 5 upcoming Olympic Games. Atos has been a key technology provider for the Olympic Movement since 1989, when the company provided services to the Barcelona 1992 Organising Committee.
IOC President Thomas Bach said: "Technology is critical to the success of each edition of the Olympic Games. We are delighted that we will be able to continue relying on Atos and its vast experience to deliver flawless, innovative IT services."
We have proven that we've got what it takes: Our Business Technologists deliver when it really counts - and we can do the same for you and your business.
Rio 2016
Timeline infographic
In 100 days Atos will begin bringing real-time results from Rio 2016
Olympic Games to a global audience.
We are ready.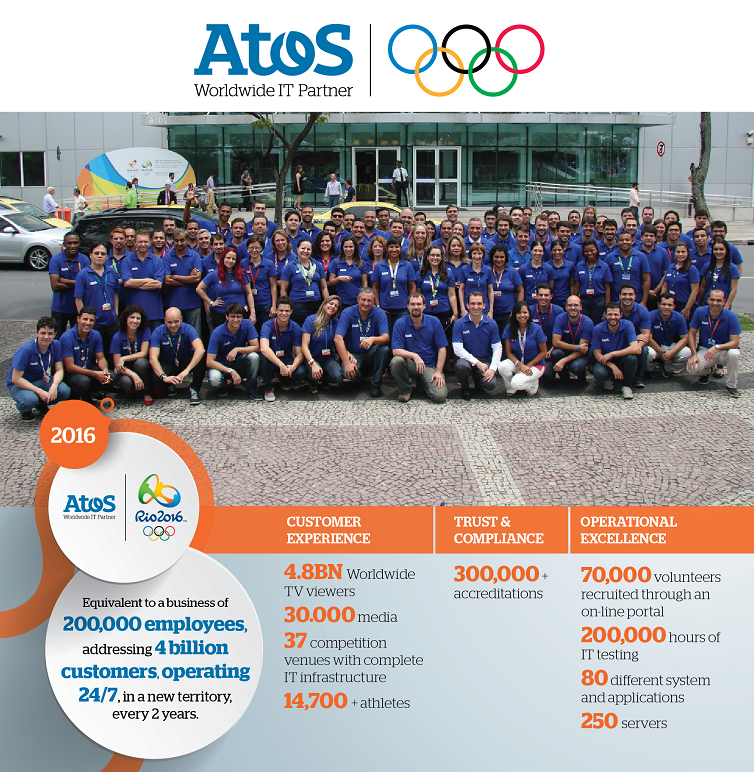 View the timeline infographic >>
Presentation Rio 2016 Games
Atos opens Technology Operations Center for Rio
2016 Games
Breakthrough moment as major IT milestone successfully delivered and IOC Project Review confirms IT readiness of the Rio 2016 Games
Contact us
Atos
Your Business Technologists!
Olympic Games Reference Brochure
IDC Buyer Case Study – Olympic Games
IDC Buyer Case Study on 'Digital Transformation for the Olympic Games: IOC Changes IT Infrastructure Strategy to - Build Once, Use Many Times'.
Free Exclusive Report
To see how our personal bests can help you smash records, get hold of our exclusive report. "Ascent. A vision for sport and technology"